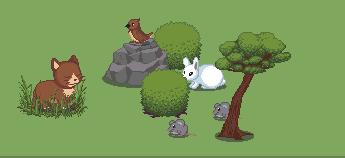 Fluffensnuff
They live in your garden, and their life is precious to you. Whenever you bring them home, you get praised and cuddled. They are, in a sense, a currency, their life for your pleasure.
If you want to play the original jam entry, please download the file named accordingly. The browser version is not significantly different right now (like, z-buffer fixes), but this can change in the future.
Comments
Log in with itch.io to leave a comment.
When I play this game, I really feel like a cat stalking its prey, so you nailed the core mechanic.
Super cute and challenging game, i love the art style