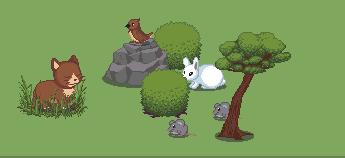 Fluffensnuff
Made in 72h for Ludum Dare 44.
Find the completely overhauled version with over 100 levels here: https://store.steampowered.com/app/1409180/Of_Mice_and_Moggies/
They live in your garden, and their life is precious to you. Whenever you bring them home, you get praised and cuddled. They are, in a sense, a currency, their life for your pleasure.

There was a highscore once, but sadly the backend got deleted. Nearly 2000 players were listed! I am especially grateful to the players who pushed through to get the highest scores, very encouraging as a dev - among them wood, zook, rosypenguin, triple g, sli, gjcurator, stevenjmiller, ursagames, avavt, puffin, purfexinator, yuki - thank you!